The Help to Buy Scheme Explained
Before we get into things, this article talks specifically about the Help to Buy Equity Loan scheme, not the now discontinued mortgage guarantee scheme or the Help to Buy ISA.
The Help to Buy scheme can be a great help to first time buyers and home movers looking to buy without a big deposit, but how does it all really work?
Well if you've been looking at advertisements for new homes, or you've been targeted by the marketing efforts of an estate agent or property developer, you probably know that the Help to Buy scheme offers a way of buying your first home with just 5% deposit, but there's more to it than that alone.
How does it work?
Essentially, the idea is that you put forward your 5% deposit, the government will then contribute an amount up to a further 20% of the property value, and you then become eligible for a 75% mortgage to make up the entire cost of the property, as shown below.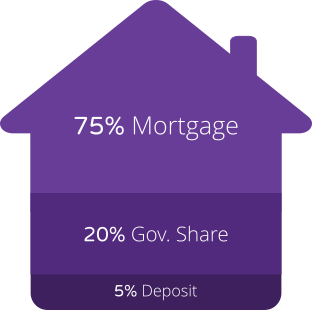 So are the government just giving away free money for you to buy a home?
Sadly, no.
You'll have to buy out the government share eventually, but not in the traditional sense of a loan where you make monthly payments, think of it more as you and the government buying a house together, as creepy as that may sound.
We don't mean you can expect Theresa May to be leaving you passive aggressive notes about leaving dirty dishes on the side, we just mean they aren't actually loaning you money to buy yourself a house and asking you to repay it each month, they're basically agreeing to buy 20% of the house for you so you only have to buy 80.
They hang on to their 20% share until the time comes when you either want to sell the property or buy them out, which you can do at any time providing you can repay at least 10% of the equity loan in one go.
We cover your options for buying out of Help to Buy in a separate article here: Paying Off Your Help to Buy.
However, while you don't have to pay back the loan each month, after your 5th year in the scheme you will have to start making monthly payments to cover interest on the Equity Loan.
An important point to remember with this is that because the government effectively own a portion of the home, if your house increases in value over time, so will the amount you owe them and the amount of interest you have to pay.
Who is eligible?
The Help to Buy Equity loan scheme is available to first time buyers and home movers looking to buy a house up to the value of £600,000.
The only other pieces of criteria that apply are that the home must be a new build property and you cannot own another property at the time your new purchase goes through.
If you'd like to speak to an adviser about Help to Buy or just learn more, you can find our Help to Buy page here.